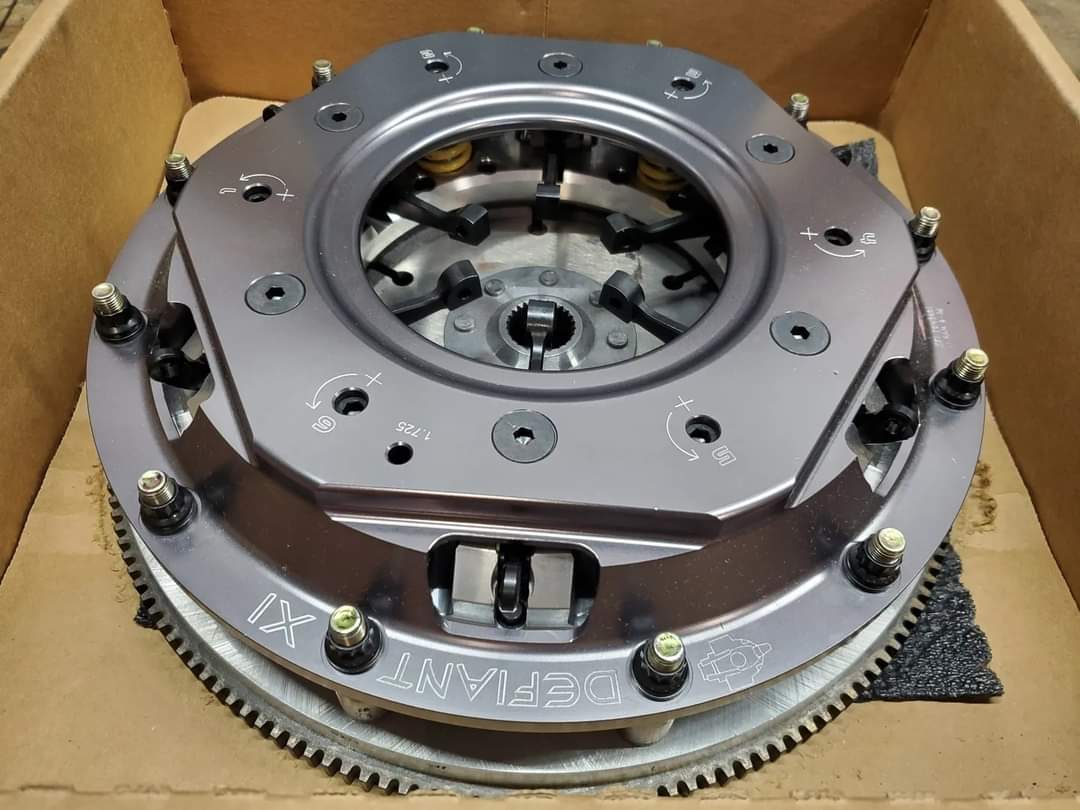 Get The Latest In Adjustable Clutch Technology
We designed the Defiant to meet the high demand of horsepower, streetability, wear, and serviceability. The Defiant utilizes many features that have been present in our long-style units for years, such as segmented heat shields and high quality billet aluminum.
However, the Defiant has several unique features including the lever mounting and geometry.
10.00″ Defiant Clutch Assembly Specifications And Features
Flywheel Stand Driven Pressure Plate
This feature allows for more consistent wear, higher rpm use, and allows for improved lever geometry by not using the lever stands to drive off of the cover like older style models.
Segmented Heat Shields
Like we've been doing for over a decade, this allows for even wear throughout the life of the disc.
Older style adjustable units use on piece rivet on heat shields. The problem with this method is that there's an aluminum pressure plate/flywheel, hardened steel heat shield and brass rivets (most commonly). Each will expand and contract at different rates causing premature warping, cupping and pulling away of the rivets which causes inconsistency and loss of friction coefficient when the disc isn't making full contact across the full friction surface.
Lever Pivot Geometry
Like all lever designs by Black Magic Cutches, the design, placement and applied pressure is dyno tested and developed. The Defiant features "Centristic Triangulated Pressure" Lever Design that better displaces the pressure applied by counter weight. This allows for maximized distribution of the applied pressure across the entire surface of the disc as opposed to older designs with lever stand/cover driven designs that applies more of the pressure to the outside edge of the pressure plate and disc.
This design feature allows for the levers to be moved inward toward the crankshaft which gives even more room in the bellhousing to make changes and less chance of clearance issues. With the flat top cover design there is reduced to almost eliminated chances of fork clearances problem. This unit allows for the maximum potential in reduced height and overall fitment of the entire assembly.
Dyno Tested Applied Pressure Lever Design
We provide applied pressure sheets that allow the user to determine exactly how much pressure is applied at every 100 rpm for every additional gram of counter weight added or removed in addition to the base pressure chart. This allows users with data logging information (driveshaft rpm, engine rpm and clutch rpm) to determine exactly how much pressure was needed to achieve lockup and adjust accordingly as desired. Additionally, just like our "Divination Levers" used in the 10.50" and 11.00" steel cover units, the Defiant Clutch Levers allow for "inboard" counter weight, which allows for slowing of the applied pressure (bell curve) to better tune specific combinations.
7075 Billet Aluminum Cover, Pressure Plate and Flywheel
Aluminum is the best choice in material for clutch design as it dissipates the heat while providing the lightness in construction. Using the best possible grade and tensile strength however is very important as to keep unit strength and durability.
Precision Ground Yokes
The lever height can be crucial in performance as well as longevity. We can adjust lever height to control how fast/slow the counter weight applies. Additionally, and most importantly, all lever tips being as close to the same height is important as you want them to contact the throwout bearing evenly which also translates into airgap being even at each pivot point.
Disc Options
BMC-HiCo 5135 – Black Magic Style Hi-Co 5135 – Most Aggressive
BMC-850 – Approximately 15% Less Friction Coefficient as 5191, Better Door Car Compound on Lower HP
BMC-PS1 – Variation of 5191 for Pro Billet Type, Less friction coefficient variation run to run with temperature
BMC-LOCO – Standard 5191 formulated like traditional Raybestos type with improved heat dissipation properties
BMC-SB – Sintered Bronze Mix, similar to bronze floater material, but mixed with sintered iron about same friction coefficient as 5050